This is a  trip that almost did get canceled several Times!
Let's start at the beginning.
I promise myself in 2020 New year's eve to see a sunrise in Africa at the beginning of each year from now on year! I was seeing all the vibes from Ghana on snap and Insta story and wishing I was part of it.
Afrochella d Afronation were banging in Accra end of the 2019 year celebration! Back then I was living and working in Miami and I already plan the end of the year celebration with my relatives in Montréal.
So I said to myself, next year I will be part of this! I manage to convince one of my best friends and my cousin to attend Essence Festival in July 2020 with me to make it up for not being able to go to the motherland celebrations …
but Coco happen …So the backup plan that we choose was Afrochella in December 2020 and coco was still happening!
Poor us… But eventually, NYE 2021 was clear the pandemic, I was back in Paris but my friends could not make it.
So this was my 1st hurdle. I was sad and disappointed, but life happens we grow up, make different choices, and the coco affects us differently!
I finally made the choice to go solo and booked everything: I did not want this situation to hold me back!
I saw what happen in the 2020 NYE and I was not about to miss the enjoyment. To be fair this was not my 1st solo trip…but it was my 1st solo trip in an unknown African country.
I was sad a bit because this kind of moment is important to celebrate with loved ones…but celebrating in Africa was even more special for me.
I need this energy and good vibes to begin each year. I choose to make my dream a reality
I was convinced that this experience will nourish my soul and boost me forward all year.
Motherland your child is coming!
Little did I know…1month and a half before departure Marocco closed traffic Airline's circulation and guest who was traveling with Royal Air Maroc to Acrra?
Adébissi! Despite that news, my flight did not get canceled until 1 week before departure. I was stressed as fuck!
The same day My ticket was canceled, I purchase à New ticket with Ethiopian airlines (650€) and file for reimbursement from Royal Air Maroc.
I have a statement payout option with my bank! I paid the ticket 3 times with fees. If you are a travel addict you should negotiate this kind of option with your bank!
I was so determined to not miss Afrochella this year for sure!
I needed this to maintain my sanity for real, 2021 was draining for me, I invest a lot in building up my Brand and upgrading my financial career.
I find a Job but it did not align with my value and my work and private life balance.
I had to quit… 2021 was also great since I launch Aduke Africa and I choose to transform my passion into Tools to support more people to uncover their African country gems and make it their dream destination to travel to!
Traveling is my escapism, my coping system. Africa is my home where my soul feels more alive. I needed this break after a quite tough year where I choose to embrace my need and put my mental health 1st!
The other obstacle that was in my way was my Visa. I have French and Beninese passeport. My Beninese passport expired!
I file for my Beninese passport in September 2021…It did not get re 2021leased until January 2022! The joke was on me who was counting on it!
I had to get it 1 week before the trip the Last min Visa! Express visa, the Ghanaian embassy was moving in Paris, and thank god I found a nice person that accepted my request!
I paid 100€ for an express visa with my French passport! And prayed it comes out before departure! And it did the odds was in my favor! I was so grateful for those blessings.
The coco test part of the trip was stressful, let's just not talk about it.
Yes, the requirements were very excessive in terms of tests and vaccines back then…but you girl was not letting anything discourage her!
That is how I Landed safely in Accra on the 27th of December 2021 for my solo festival and NYE Trip.
This is my Journal
Day 1-Afrochella festival 28TH December
I arrived at the airport on the day of the festival near 1pm!
Huge mistake! I will not recommend it.
I had to 1st withdraw cash and get a Sim card. This is essential whenever you Land in a west African country.
3 pm I was checked in at the hôtel and rested for à 1hour before getting ready to go to the Afrochella festival. I stayed near Labadi beach at Cocktails DREAM HOTELS;
I arrived late I think… 5 pm at the festival and night was already falling. I forgot night comes fast over here…
I could not enjoy the festival in day Time and it was difficult to capture the moment for me as a solo traveler in this festival. 
I had a great time and great food. But I will recommend to arrived earlier! 2 pm! Or a day befor the festival.
The atmosphere was vibrant and charming and the energy was something else.
Being among your own people and vibing at the same heart bit is priceless.
It is a Life Time experience. I had the best time of my life even if I was by myself. Ghanaians are very respectful of women and welcoming. 
Do not be shy to engage in conversation, compliment people, and mingle. Enjoy yourself!
And yes they were not on the schedule for the concert…We waited until 4 pm to see the headliner WIZKID! But who cares this experience was mind-blowing, with African artists killing the game! 
Check out my YouTube video and catch the vibe! link here
Day 2-Accra city tour
Let's visit the city.
Solo trips are sweet. I am on my own schedule, and no one stressing me out with their own needs! I met great people at the festival!
So I woke up and went to have a walk at Osu street 1st then went to visit the "Independent square Accra".
That is when at the black star I found 2 men taking pictures and flexing too much. Knowing e I had to tease them lol, they were playing too much.
This is how I met Aris and Dr. Amani! 2 Congolese men chopping life in Accra. We decided to continue the city tour together since we had the same agenda!
Accra is filled with a Pan-African vibe in December, and people from different African nationalities converge there to celebrate the new year together…
It felt incredible to be part of this! This solo trip turned out not so solo on day 2 only! Can you imagine? this is why you should always follow your gut!.
My city tour
Oxford Street Osu
Independence square/Arch
Blackstar square
Asomdwe Park
Osu Castle
Asomdwe Park is the venue that holds the mortal remains of the Late Former President J.E.A Mills … 
You can find some animals over there, It is like a mini zoo with ostrich, fish, and birds. They are under reconstruction but you can still have access.
Visit Osu castle – Beyond slavery
Ghana has a lot of castles used as HQ points to deported our African people as slaves. Visiting those places is important but let's keep in mind our history did not start with slavery or colonization.
Kingdoms, Legend, Heroes…
A lot happened before that. We should be eager to learn also about it.( Example: Ashanti kingdom, Dahomey Kingdom, Oyo Kingdom)
.★The Black Star of Africa is an important symbol in Ghana. It is described as the "Lodestar of African Freedom". It is also a great symbol of Pan-Africanism, the décolonisation movement that occurred in the mid '90s.
It is all about African unity and emancipation. We still have a long way to go and reach for some country's economic emancipation…
But we never stop fighting for à total emancipation.  
A night in Accra can change everything! 
I link up with Jay, one of my Instagram travel friends and we went to taste the nightlife!
He met too of his Cameroun fellow citizen at his hôtel and came with them. This is how I met Stéphanie and Cynthia! We spend the night clubbing!
.The Joy of Ghanaians is communicative…will catch you and embrace you fully. Just surrender to it..
What started as a Solo trip turn out to not be that solo on day 2.
I met great souls who made my trip unforgettable. We encourage each other on our goals and struggles. It helps to know you are not alone in chasing dreams…
I was able to start the year with people vibing at the same energy as me. I am grateful.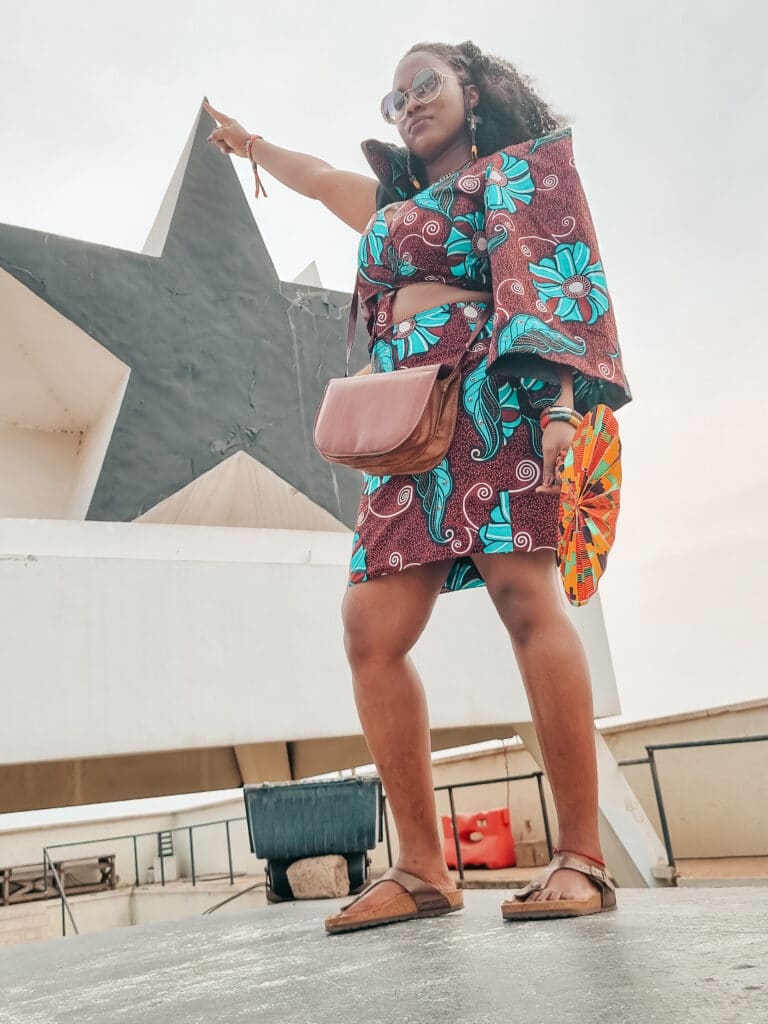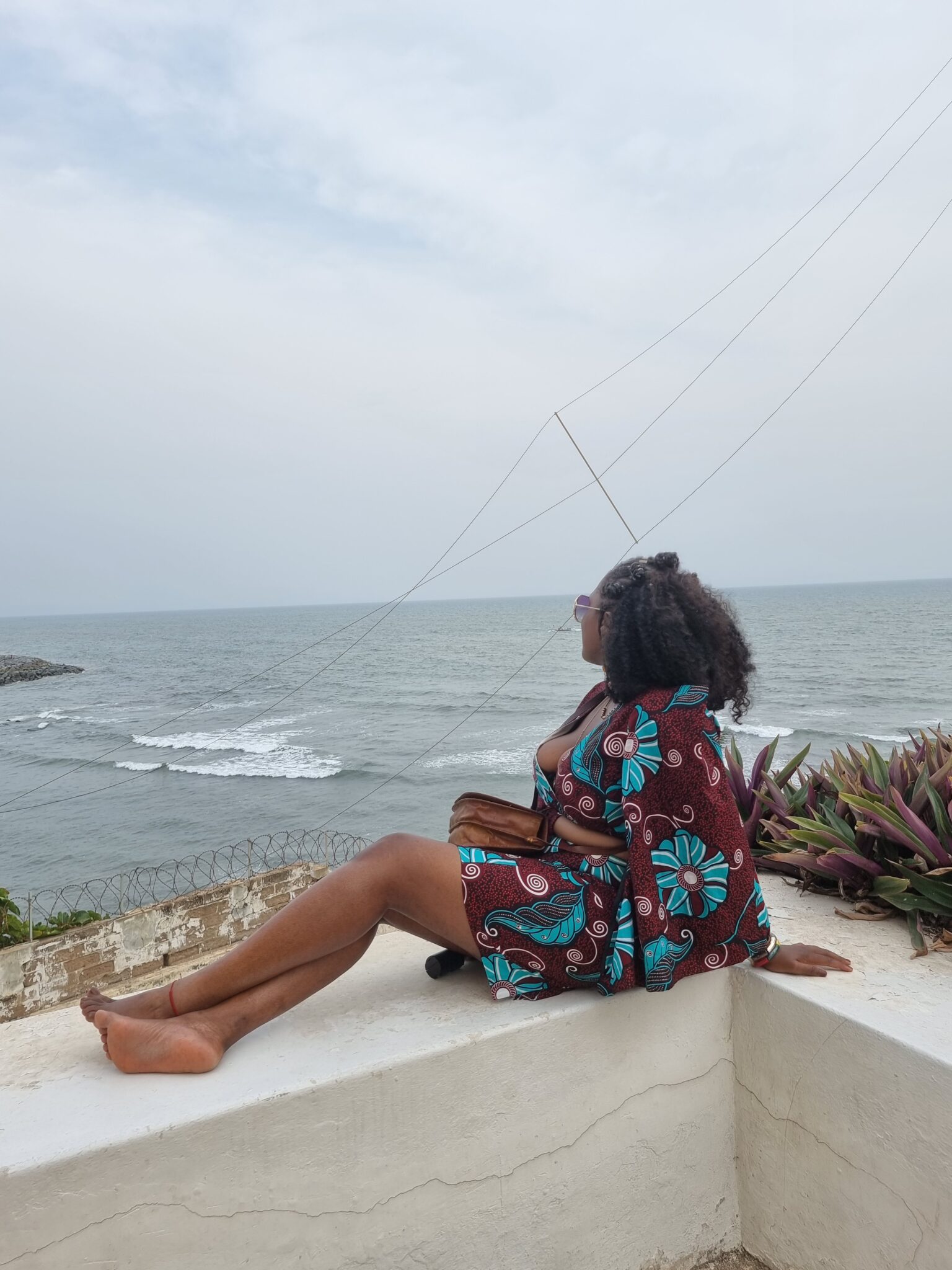 .Day 3 Accra
I book a tour with no notice lol! Just saw it on Instagram stories and went for it!
Last min day trip with @ajalatravelstours !
10 hours before departure decision. Best choice ever.
Love the experience, met wonderful souls, and learn about the cape coast region of Ghana. The tour was focused on the history of slavery and uncover of an amazing natural forest.
Central Region Tour
Kakum National park
Cape coast castle
Elmina Castle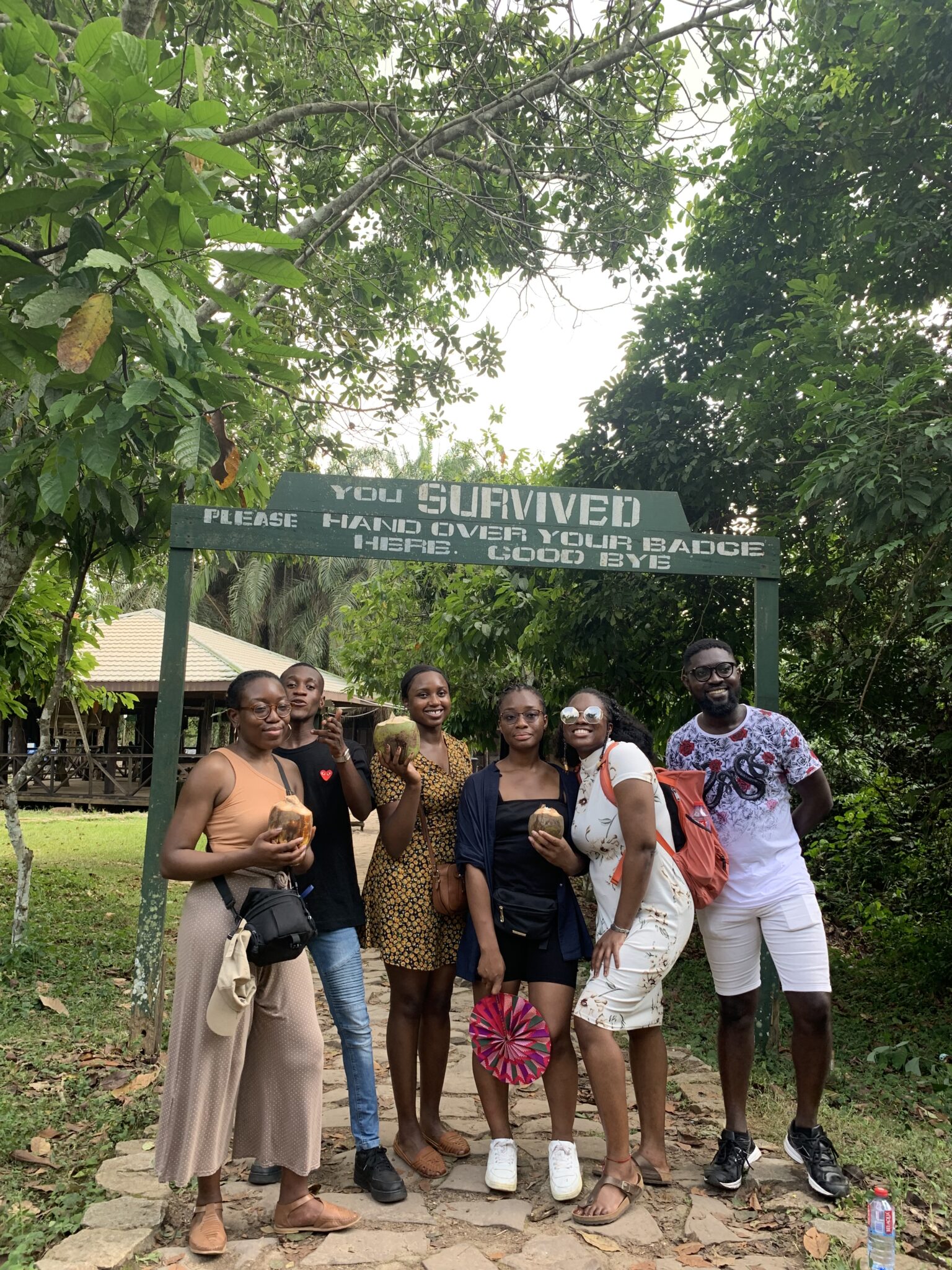 Day 4-Accra Chill in the city tour
Met my 1st travel Husband at the market on this solo trip. The second wife position was offered…but your girl was not about that life.  I went to the Accra arts center, which is an art market, and had a nice stroll over there.
Then I went to pay respect to one of the Pan-Africain Heroes and movement founder: "KWAME NKRUMAH"
He inspired subsequent independence movements throughout Africa. He became Ghana's first prime minister in 1952 and later its first president. His focus on public works and Pan-Africanism was initially popular, but an economic crisis and corruption sparked a coup in 1966.
Let's be grateful for his influence.
He did what he could at his own scale for his people.
Do you want to brunch? Check out Breakfast to Breakfast. You must try wake also, traditional Ghanaian breakfast. But to be fair we eat it also all over west Africa, rice and bean, spaghetti, peeper fry stew, boiled egg….
After that, I spent the afternoon at Labadi beach with the friends I met at Independence square.
Then we went to the Afrochella NYE party. 
The celebration was lit with my new friend squad! I met my travel husband n°2 at the party! lol You need to experience Acrra for your self for sure!
Party in Accra:
Do you want to chill with the Big Boys? This song was one of the anthems of this December festivities!
Just taste Accra Last week of December.
Even if you have a plan; Accra got plans for you oh! In December Accra becomes the party city!
!!No sleep and enjoyment nonstop.!!!
I came back with the party girl badge! I swear in Paris I barely spend the night out once every 3 months! I was out every night.
Alley bar, front/back, Sandbox beach club; Polo beach club, Luna rooftop bar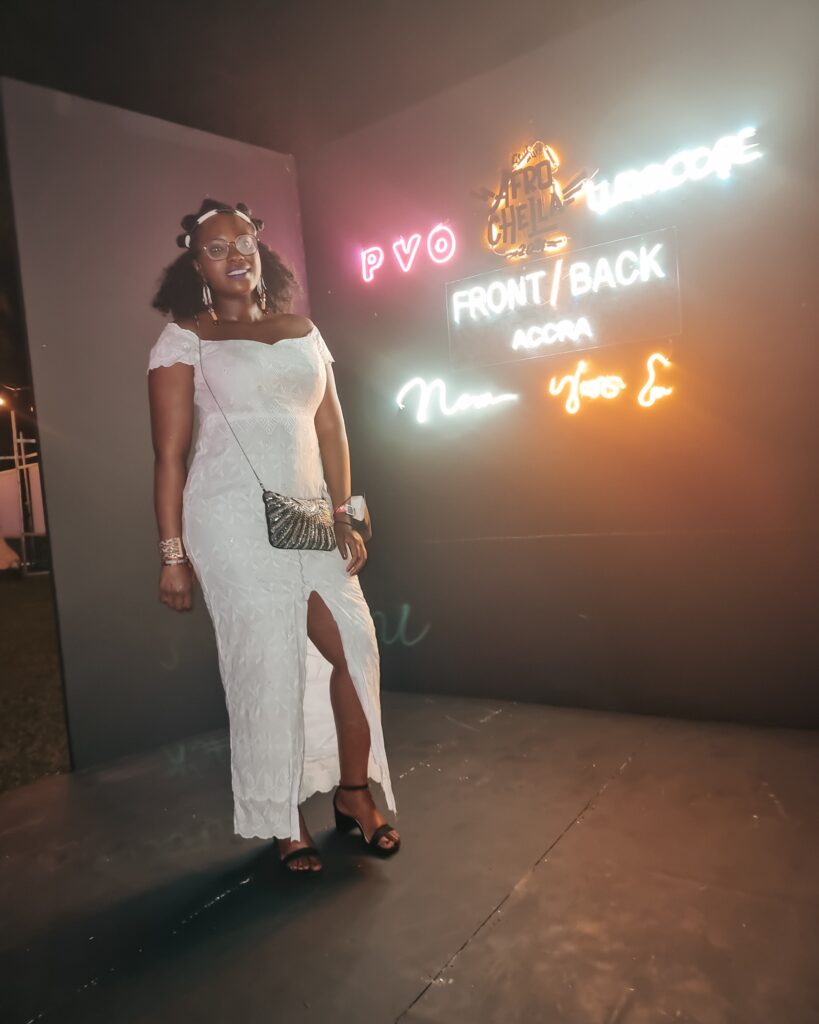 Day 5-Relaxation day
 I just rested! Pool day chill day with my new friends! The NYE took me out!  Dinner and meet up at Oxford street!  Just went early to bed for Day 6 big day.
PS: Most of the beaches in Accra are not free. 20 cedis to have access to them.                                                                  
 Day 6-Road trip to Eastern Region

Travel Husband n°3 was our guide!
Aburi botanical garden
Hiking to the Umbrella rock
Botti falls  
This trip was great! Had a great time with Aris Dr Amani!
The landscape was very mind-blowing during the road trip.
You better be ready for the hike! It was intense and off the road!
Did a last Fireboy showcase for the road! lol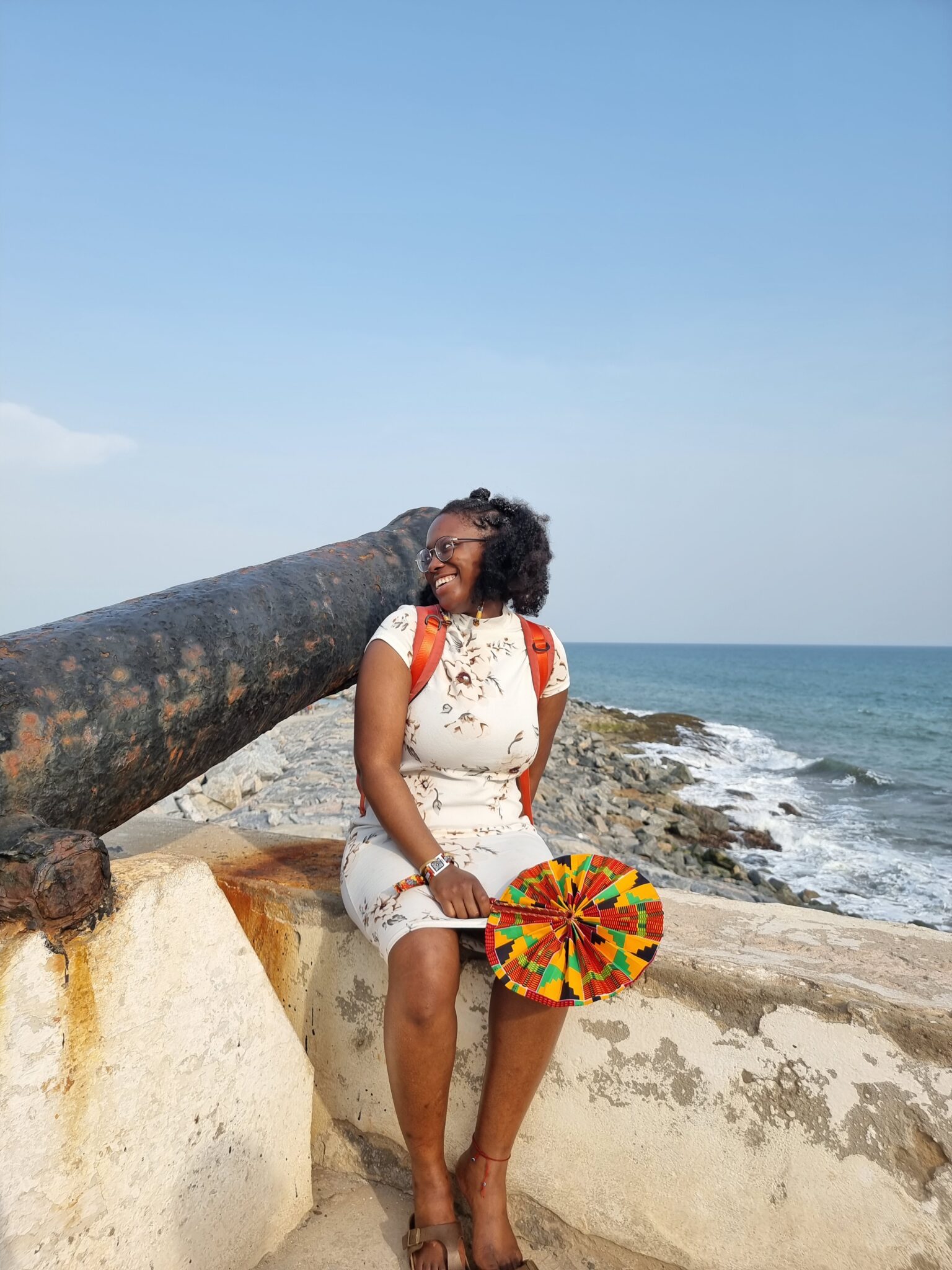 Day 7-FLIGHT TOCOTONOU
It was time to say Goodbye and go to my next stop! Bénin! Cath up my adventure over there in my article "Staying Put Bénin"!

It was supposed to be a month's holiday…(joke on me lol)
It extended to fully living there for a few months.
What started as a solo trip to Accra became not so solo after all…I met so many great souls, with the same mindset as me, from the continent and the diaspora!
What an amazing pan-African experience it was! We all came to catch the vibe, connect more to who we are, and celebrate among ourselves.
I swear I never want to start a new year anywhere else than Acura. New York used to be my ultimate goal back then, but now Accra is the place to be period!
A pan-African tribe was built! I am grateful and humbled about my experience! It was beyond my expectations!
So if you want to experience Accra during that period! Go for it! It is expensive but so worth it!
PS: A week with accommodations, activities, food, no flight ticket is almost 1000€ for me.